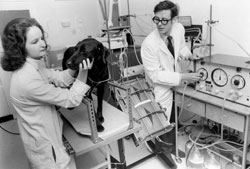 Today, 56% of the world's inhabitants share their daily lives with at least one companion animal*.
Upon Virbac's founding in 1968, France is still an agricultural nation, where food producing animals prevail. Almost 90% of veterinarians work in rural areas, as compared to around 22% in 2015**.
Nonetheless, although companion animals do not enjoy the status that they will later earn in the hearts of the French people, veterinarian Pierre-Richard Dick already feels that dogs and cats deserve the same attention accorded to food producing animals.
This pursuit of the health and well-being of all animal species, so dear to Virbac's founder, is deeply anchored today in the company's values. It serves as daily guidance to teams around the world.
Listening to veterinarians, farmers, and animal owners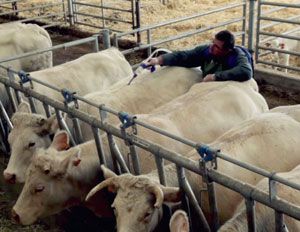 To provide useful solutions that improve veterinary practice and the care given to animals, Virbac strives to meet tangible needs with safe, efficient and easy-to-use products.
To do so, veterinarians, farmers, and owners, who are in permanent contact with the animals, became from the outset the main source of inspiration.
Result: Virbac often releases the right product at the right time. Many of these innovations will enjoy lasting success. Such is the case for many variations of the parasiticide collar, almost 300 million of which have outfitted dogs and cats for 40 years!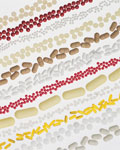 In this constant search for ingenuity and pragmatism, one of Virbac's major innovations is in formulation. The creation of a dedicated laboratory in the mid-'70's opens the door to a level of inventiveness that has not been refuted since.
Evidence of this is the design of extended release bolus in 1985 for the parasiticide treatment of ruminants. Another is micro-encapsulation technology, that in 1997 serves as the basis for the first dermatology dog and cat shampoo that still acts after rinsing.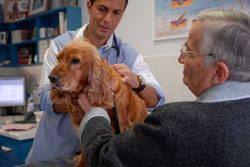 As for biology, the virus was inoculated at Virbac from its inception.
Trained at the Pasteur Institute, during the 1970's veterinary doctor Pierre-Richard Dick harnesses his knowledge to develop vaccines, now indispensable to veterinary practice.
On the strength of scientific partnerships with international research laboratories, the company would design landmark biological products: first homologous vaccine against canine parvovirus in 1982; first genetically engineered vaccine against feline leukemia in 1988; and first vaccine against canine leishmaniosis in Europe in 2009.
Not to mention the oral anti-rabies vaccine for foxes, delivered by helicopter!
Because animal health knows no borders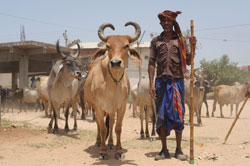 Very soon after creating Virbac, Pierre-Richard Dick sensed that animal health was a global issue.
For Virbac, the first foreign explorations begin in the '70's in Europe. Wanting to work for animal health everywhere in the world, the company gradually offers international health solutions through its own subsidiaries, starting in Germany in 1982.
Until today, where the Group offers its products in more than 100 countries and operates production units and R&D centers on five continents.
A regionalization of research and production that allows it to respond up close to local health problems.

Animal health from all angles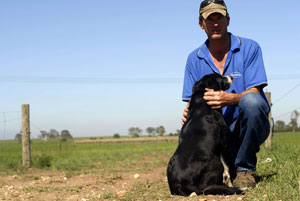 In the 1970's, there is a sense of urgency around public opinion in developed countries, where there is already an increased awareness of well-being and protection. In response to this, France enacts a law, which in 1976 recognizes the animal as "a sentient being." In turn, Unesco declares the Universal Declaration of Animal Rights in 1978. Pierre-Richard Dick is convinced that the quality of the relationship between man and his companion animal, increasingly considered as a full-fledged member of the family, is determined as much by the animal's well-being as by its health. As a function of this belief, Dick would gradually construct the company's offering with this global approach in mind. Today's range of Virbac products includes a complete set of solutions for diagnosis, prevention, treatment and, more generally, for the quality of animal life. In this particular area, Virbac strives to address the day-to-day issues by developing dental hygiene, skin, eye, and ear solutions as well as food supplements, soothing products and nutritional solutions.
A resolutely future-oriented approach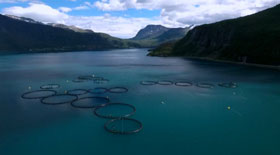 According to the World organization for animal health, 75% of emerging diseases in man originate from animals. Aware of the interrelationships in the living world, Virbac plans to contribute to animal health by fully integrating the link that connects people, animals, and their environment. The Group is thus involved in the fight against zoonoses (rabies, leishmaniosis, dirofilariasis, etc.) while bearing in mind the major challenges of food safety and quality. Evidence of this is research into alternatives to antibiotics and gradually making vaccines dedicated to food producing animals available to veterinarians. Not to mention its contribution to the development of the aquaculture sector, promoting a future animal protein. Finally, its engagement through the Target 150 program in support of global solutions in the dairy farming sector, because healthy cows produce better milk!
It has now been fifty years, which have allowed Virbac to construct solid foundations in the best interests of animal health. Nonetheless, there are still numerous challenges to address in relation to the ongoing emergence of new diseases and the importance of animal health for the health of ecosystems. To this end, the company is continuing to evolve: innovative, learning, and agile, with men and women committed to provide ingenious solutions to professionals and always better care for animals.